Rain water harvesting Dorset
Save money and water and be kind to the environment by harvesting rain to use in your home and garden
We supply the Rewatec range of rainwater harvesting systems for homes and gardens throughout Dorset.
Rainwater Harvesting Dorset
Are you tired of constant flooding? Are you looking for an environmentally friendly, water-saving system? Beat the hosepipe ban with our rainwater harvesting systems.
We are the leading providers of rainwater harvesting systems across Dorset. Our systems come in all sizes, ideal for domestic, agricultural, horticultural, equestrian and commercial usage alike.
This environmentally friendly solution allows you to collect and store rainwater in compact rainwater collection tanks. These systems help avoid flooding caused by rapid, heavy rainfall, ideal for homes and businesses in Dorset.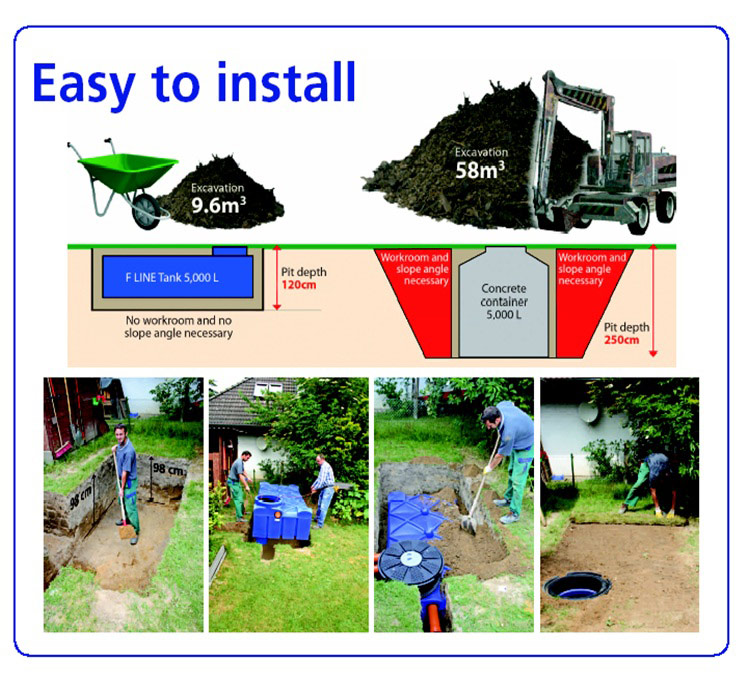 We provide a wide range of rainwater harvesting accessories and replacement products to our Dorset customers, including commercial pumping units, filters, pumps, UV sterilisation and GRP/ concrete tanks.
Our range includes above ground systems and below ground systems with a range of storage tank sizes to suit all requirements. We not only supply you with top quality products, our expert rainwater harvesting system installation teams work all over Dorset, setting up your collection tanks and filters.
All our systems use the latest technologies to ensure the water supplied is the cleanest, clearest and coolest it can be.

To find out more about our rainwater harvesting products please don't hesitate to get in contact with our friendly Dorset sales team. All our details can be found on our Contact Us page.
We are specialists in septic tank and sewage treatment installations
in Dorset, Hampshire, Wiltshire, and Somerset.
We are The South's Premier Suppliers and Installers Of Home Sewage Treatment Plants and Pump Stations.
We can convert your existing septic tank / cesspit into a treatment plant, saving you thousands of pounds. We deal with septic tanks throughout Dorset, Hampshire, Wiltshire and Somerset.
We are specialists in Sewage and Effluent Treatment Systems, serving the counties of Devon, Somerset, Dorset, Wiltshire, Hampshire and West Sussex.
You'll find us friendly and approachable yet efficient and professional. We have 25 years' experience in drainage. Drainability was established in 2005.
Septic Tank & Soakaway Replacement
Treatment Plant Installation
Existing Septic Tank/Cesspit Conversion Units
Septic Tank Installation
Septic Tank Systems
Septic Tank Problems
Water Treatment Plant
Wastewater Treatment Plant
Sewage Treatment Works
Sewage Treatment Plant Installation