Mantair septic tank systems
Modernise Your Septic Tank or Cesspool! Remove the Need for a Soakaway! Eradicate foul odours!
How it Works
The MANTAIR range of septic tank conversion units provide a discreet, reliable and cost effective solution to sewage treatment for domestic dwellings and small scale commercial and industrial premises without mains drainage, but where existing tankage is present.
The MANTAIR septic tank conversion unit is a purpose made unit designed to fit completely within an existing septic tank or cesspool, effectively converting it into a small sewage treatment plant producing a clear, odourless and harmless effluent. The MANTAIR unit is ideal for situations where the existing septic tank is discharging untreated effluent to a watercourse or where a soakaway has failed. The MANTAIR unit is also ideal for converting Cesspool holding tanks, removing the need for frequent emptying.
Benefits
The most popular septic tank upgrade system in the UK
Does not require the installation of any additional tanks and avoids the disturbance of established gardens
Provides an affordable, discreet and reliable solution to septic tank problems
Removes the need for frequent emptying of septic tanks or cesspools
Designed to produce a treated effluent in compliance with Regulating Authorities
Peace of mind with a Lifetime Process Guarantee and Patent Protected
As the original pioneers of the conversion unit concept some 22 years ago, MANTAIR is still today the market leader in the field of septic tank and cesspool upgrades.
Installation
Our dedicated team of survey engineers provide a professional service for the installation of MANTAIR septic tank conversion units. This includes a no obligation site visit and assessment of the existing drainage arrangements.
On completion of our initial inspection a detailed quotation for the works is sent to the client covering all matters relating to the MANTAIR unit installation. All relevant Environment Agency Permits or Exemption Certificates are also handled on the client's behalf.
Typically the installation and calibration of the MANTAIR unit can be carried out in one day. On the majority of projects the MANTAIR unit requires minimal disturbance to gardens.
Maintenance
Maintenance is essential to all sewage treatment systems. Maintenance of the Mantair septic tank conversion unit is simple, and comprises the renewal of the air blower inlet filter and flushing through of pipe work and components. Regular maintenance is essential to ensure the efficient operation of the Mantair unit.
The Mantair Maintenance Division together with the Mantair network of Licensed Contractors offer a full after sales service, including planned maintenance visits.
Mantair recommends that all Mantair septic tank conversion units are serviced and maintained by a trained Mantair Licensed Contractor, ie Drainability.
Guaranteeing Peace of Mind
Unlike any other septic tank conversion unit, the Mantair system comes with a Process Guarantee for the lifetime of the installation. On commissioning of the completed installation, Mantair Limited provides the end user with a Process Guarantee for the final treated effluent produced from the system.
Septic Tank Problems
If you're experiencing problems with your septic tank or require a repair, help is at hand with Mantair. We've been inspecting, repairing, converting and updating septic tank systems for over 25 years.
Septic Tank Regulations
As of January 2015, new rules for septic tanks were introduced, concerning their use and how these systems are regulated. These rules were introduced by DEFRA and the Environment Agency, and are referred to as 'General Binding Rules' to be strictly enforced by January 2020.
Sewage Treatment plants
Sewage treatment plants produce a level of treatment that allows the resulting effluent to be discharged directly into ditches, streams and rivers. Providing a modern alternative to septic tanks, these systems are the preferred choice for regulators.
CONVERSION
The Conversion Unit by Mantair
is a sewage treatment system specifically designed to fit within an existing septic tank or cesspool, effectively converting the existing tank into a small sewage treatment plant producing a clear, odourless and harmless effluent.
INSTALLATION
Our 'in house' contracting division provides a professional service in the field of wastewater treatment products, including design, installation and commissioning of septic tanks, septic tank conversions and sewage treatment plants, for both commercial and domestic customers.
MAINTENANCE
Our maintenance division provides a one-stop service for the repair and servicing of sewage treatment plants and Mantair conversion units. Our dedicated and trained maintenance staff provide a professional and personal service for all of our clients, including planned maintenance visits.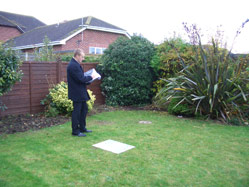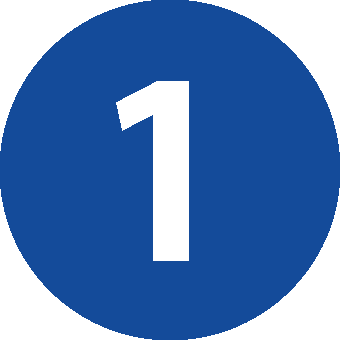 We carry out an initial survey of your existing septic tank or cesspool.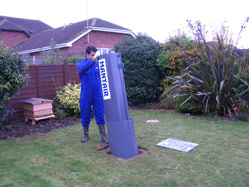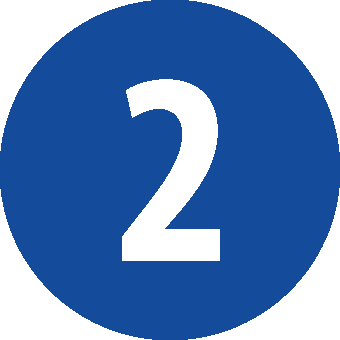 The tank must be emptied and all debris removed from the floor of the tank prior to the installation taking place.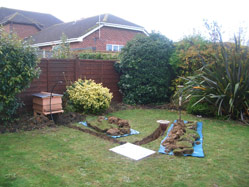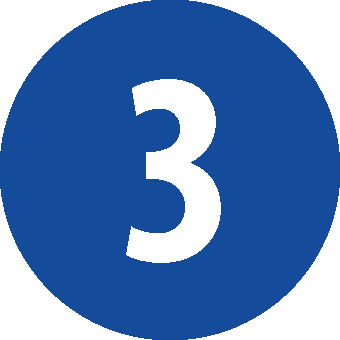 On the majority of sites only minor civil engineering works need to be carried out. This minimises the disturbance to established gardens.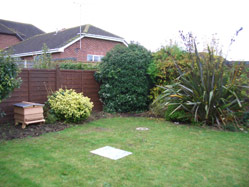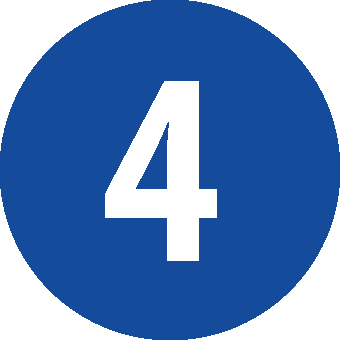 Finally the unit is commissioned by Drainability, as Mantair trained engineers, to ensure optimum operational effectiveness of the Mantair conversion unit.